1. Nitrogen Rate Application Resolution, Can plants be fertilized every 2, 3, 4 .... and obtain the same yield

Hypothesis:

Ho: N applied to each and every plant is not necessary because root proliferation and competition, compensates for this need.

Ha: N applications to each and every plant lead to increased yield because N is used where it is applied.

Every 1 plant


Every 3 plants

Every 5 plants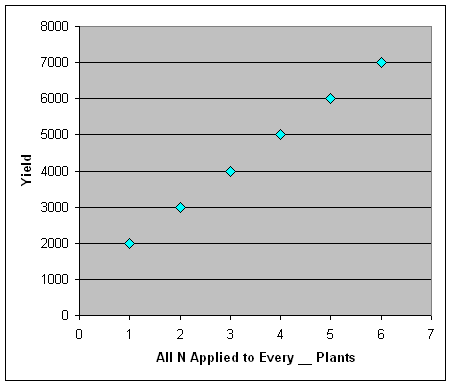 2. At what scale does the competition for N influence corn grain yield?
(use the same "rate" per area), but will have to apply more N per plant as scale increases
a. fertilize every plant
b. fertilize every other plant
c. fertilize every 2 plants, 2 plants off
d. fertilize every 3 plants, 3 plants off
e. fertilize every 4 plants, 4 plants off