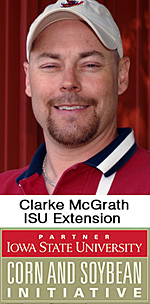 In talking with customers and looking at corn fields the last 7-10 days, I am seeing similarities to our '06 corn crop's emergence and early growth. With that in mind, why not do a proactive article that deals with uneven corn- and just maybe the act of writing the article would cause the corn to get with the program and even up! I recall in '06 we had a cruddy spring- cool, wet and a lot of variability in temps. This led to getting a bunch of calls about the corn fields that came up even and looked good from VE-V3 or so, then uneven spots showed up around V4-V6. Many growers and agronomists commented that it appeared that the good corn was taking off and the bad areas were stalled out. Most of the areas of stunted corn had a common theme; inhibited nodal (permanent) root systems. There were a multitude of reasons for the limitations of nodal root growth and subsequently uneven corn in fields I looked at in '06, here is the list that I can remember (one of my field notebooks went through the washing machine) from many of the bad spots I had seen-

Cold, wet soils early in the season
Heavy residue areas
Compacted areas
NH3 burn
Insect injury to crown and/or mesocotyl
Early season seedling disease of mesocotyl and/or crown
A few cases of herbicide injury
Soil temp variations (usually a result of lighter color high clay soils, wet areas, and/or heavier residue cover)
Tillage patterns
Extra soil washed in where trash whippers "trenched" a furrow in the row resulting in very deep planted corn (3"+)
Places where soil washed off the row, or planter units rode up on trash, resulting in very shallow (1" or less) planted corn and the corresponding dreaded "rootless corn syndrome"
Sidewall smearing/compaction

Combinations of the above were common, and I am probably forgetting some of the less common issues we saw.
Quite a few reasons listed above, and most of the poor spots had several factors affecting them. As to management to prevent this in the future, it varies by field, but in general there aren't great answers to contend with the root cause (pun intended) of the stunted corn from '06; the early season cold wet weather. Extended periods of cold, wet soils magnify small differences in fields, improve the odds of seedling disease and insect injury, and generally make the plant more susceptible to slow root and top growth from any of the above factors. Small management changes like floating trash whippers, using one spiked and one solid closing disc (set them even or the spiked wheel slightly ahead), higher dose seed treatments, slower planting speeds, leveling the planter or even running a little bit rear down, using seed firmers, straw choppers/spreaders on combines, etc. can help with some of these issues. Since each case is different, so the best idea is to work with your Local Seed/Retail Fert/Chem Agronomist (AKA Local Dealers) or ISU agronomist to see what management factors can help out in the future.
In '06 many of the stunted areas improved and appeared to almost catch up as we accumulated heat units. Tasseling time brought the spots- and the questions about them- back as tasseling was delayed compared with the rest of the field. Another point- with the potentially limited root systems that corn can have under these types of conditions, the stunted areas can suffer more that the good parts of the field if we have a dry spell.

So, what might be the yield impact from the stunted areas if they show up? Attached is a great article written by Lori Abendroth and Roger Elmore, our campus corn research team, which should give a general idea of yield losses associated with uneven corn IF it shows up.

http://www.ipm.iastate.edu/ipm/icm/2006/6-12/cornheight.html